20 Most Promising Google Technology Solution Providers 2016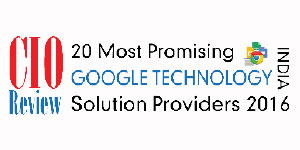 In August 2006, Google launched Google Apps for Your Domain, an early predecessor to Google Apps for Work and Education. Since then, Google Apps has grown over the years to include the tools we know and use on a daily basis—Gmail, Hangouts, Google Calendar, Google Drive, and many more. When Google Apps for Your Domain was released, cloud-based services were still in their infancy. Amazon's Elastic Compute cloud (EC2) had just launched and the cloud was viewed by many as a passing fad. But Google pressed on. Eventually in 2011, Google stated that the Google Apps partner community more than doubled since 2010 to over 2,500 certified partners operating in 70 countries.
As enterprises implement Google Apps for Business, CIOs need assistance leading their organizations on the journey into cloud services and cloud-supported devices. At a high level, Google's implementation partners have a similar set of offerings to address the basic requirements of an Apps implementation. What really distinguishes each service provider/partner, though, is how it helps a client navigate the journey to the cloud. Also, one obstacle we often hear from larger organizations stems from the lack of granular controls and "back office" features associated with Google Apps. However, an ecosystem of third-party providers has emerged to fill these gaps too and we've seen the adoption of the suite from some of the world's largest businesses – including Whirlpool.
CIOReview understands the emerging importance of Google Apps for Work and why it must be introduced to businesses. And so, we bring to you a list of 20 Most Promising Google Technology Solution Providers. Being closely scrutinized by a distinct panel of judges including CEOs, CIOs, CXO, analysts and CIOReview editorial board, these Google partners drew our attention not just because of the implementation methods, but also because of how they help organizations construct and carry out the migration to Google Apps.
We present to you CIOTechOutlook 20 Most Promising Google Technology Solution Providers 2016.
| | |
| --- | --- |
| Access1solution | Caters to SMM, SMO, Email Marketing, Web Designing, Mobile App Development, PPC, Web Design & Development and Online Lead Generation. |
| AVION Electronics | Provides services like system infrastructure, network infrastructure, facility management, off the shelf software, cuztomized solutions and other turnkey solutions. |
| Balasai Net Pvt Ltd. | A Provider of Online infrastructure design & deployment like Linux Hosting, Windows Hosting, Dedicated Hosting, Dedicated servers & Server management services and 24X7 monitoring & maintenance. |
| Cloudnow Technologies | Offers Google Apps, SaaS Development, Custom web application development, Task management and Social Media Applications. |
| Centum Technologies | Caters to solutions like Cloud Computing, Web Presence Management, Google Apps for Work, Network Management and Testing. |
| Consularis Technology | Designs Cloud Computing Solutions, Network Security, Enterprise Networking and IT Infrastructure Solutions. |
| Giga Soft Systems | Furnishes a host of services & solutions like web applications, software development, SaaS, email campaign management and online marketing. |
| Happy Marketer | Deploys solutions like Social Media Marketing, Online Video Marketing, Google Analytics & Social Analytics, Conversion Consulting and Search Marketing. |
| iNFIN Software Technologies | Avails solutions like web design & development, iPhone application development, OS - E Commerce, SEO SMM SMO IM SEM PPC and android applications development. |
| Inovies Consulting | Provides solutions like Custom Application Development, E-commerce, Employment Process Outsourcing, ExamPattern Tool - For companies & academic institutions and Software Licencing. |
| Intellika Technologies | Facilitates comprehensive suite of Business IT solutions comprising of Software, Hardware & Data Center services that include Mobile Application Development, Open Source Customization and Google... |
| Nabler Web Solutions | A Provider of Digital Analytics Consulting, testing & optimization, Digital Analytics Operations Support, Adobe Sitecatalyst, Google Analytics, Webtrends and Coremetrics. |
| Odigma | Proffers solutions for SMM, SEO, Google Adwords Management, Banners and Flash creation, EDMs / Emailers, Website creation & Analytics, Conversion Rate Optimization and mobile app creation |
| Orange Softech | Provides solutions for complete online presence using ASP.NET, C#.NET, PHP, MySQL & MSSQL Server and software solution for computerised voting - election software and payroll & time tracking... |
| Samskriti Business Solutions | Caters to solutions like SEO, Search Engine Marketing, Social Media Optimization and Marketing, Pay Per Click Management and Affiliate Marketing. |
| Searce | Furnishes solutions like Cloud & Analytics, Logistics Analytics, Go to Cloud Strategy Consulting, Business Process Transformation and Google Apps for Work. |
| SunRise Imaging India | Extends digitization services and Google enterprise applications to enable mobility and accessibility across multiple devices. |
| Tech Groupz | The authorized Google apps reseller proffers migration & integration tools, messaging apps and vaults. |